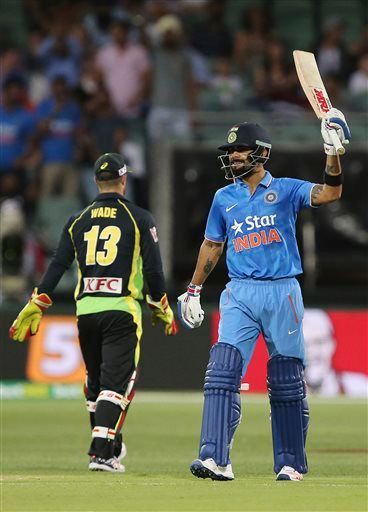 Virat Kohli's romance with Adelaide continued as the India Test skipper slammed a brilliant unbeaten 90 as India crushed Australia to win the first T20.
Kohli has had some fine moments to cherish at Adelaide as in 2012, he scored his first Test hundred.
In 2014, he scored two centuries in the Test series and from then on Kohli has been in fine touch at this ground including a World Cup hundred against Pakistan.
India's limited overs skipper MS Dhoni in the Press conference joked that they will soon have to name a stand after Kohli.
"I think in Adelaide, they'll be naming a stand after him, the amount of runs he's scoring. By the time he ends his career, quite a few Australian grounds will have his stand," Dhoni said.
"But yes, he's batting really well. The important thing is, when he is taking the risk of playing a big shot, he calculates it well. It's easy to play a big shot, everyone can play it. But it's how you calculate where your strengths are and take risks according to that. Also, he is someone who looks to score in front of the wicket. Of course he's a good cutter and puller of the ball also, but at the same time, he looks to hit in front of the wicket and that always gives you more chances of success.
"He is someone who reads the game very well. Right from the very start, whenever we had any kind of interaction, he was always looking to improve himself as a cricketer. If you have that kind of curiosity, it helps you become a better cricketer," the skipper added.
Kohli's knock ensured India posted a dominating total on board but the onus was on the bowlers to defend it. This time, the Indian bowlers didn't let down the skipper.
"I don't think the fast bowlers bowled badly, frankly, but of course, the bulk of the wickets were taken by the spinners in the middle overs. If you keep taking wickets in the middle overs, it becomes easier to win the game, so their role was very crucial. We have seen spinners be quite successful in this format, especially after the sixth over once the field opens up. And over here with the bigger outfields, they can exploit that, unless the batsman is willing to play a few reverse-sweeps and all those shots or he's very good in playing spin. Then he can put pressure on the spinners, but otherwise it becomes slightly difficult to consistently hit them for boundaries," Dhoni said.
"I know they lost quite a few wickets by the time the death overs came and they didn't have proper batsmen batting, but I still felt Bumrah and Ashish Nehra executed their plans really well. That's one period where we have struggled consistently, so it's good to see them bowl well," he added.
Ravindra Jadeja was crucial as the left-arm spinning all-rounder not only applied brakes on the Australian batting but also picked wickets.
"As far as Jadeja is concerned, whenever there is a bit of help, he bowls well. You know that his spectrum of performance is usually quite narrow. His good and bad performances, there is less difference between them, which makes it slightly easy for us and gives us stability," Dhoni said.
Hardhik Pandya made his international debut but started off nervously as he bowled an 11-ball over that consisted five wides.
However, Dhoni backed Pandya and the all-rounder bowled a decent second spell.
Talking about Pandya, Dhoni said, "When it comes to international cricket - and I have said this in the past too - it's all about handling pressure. And once you are given the ball, there is some kind of pressure on you. So there would have been some kind of pressure on him, but after the first over, I knew that whenever he comes in to bowl the second over, it will be better than his first. And that's what happened. I was quite happy with his second and third overs. But still, he'll have to be more and more consistent with his line and length and that will give me a lot of confidence to consistently play him as a third seamer if the need arises."