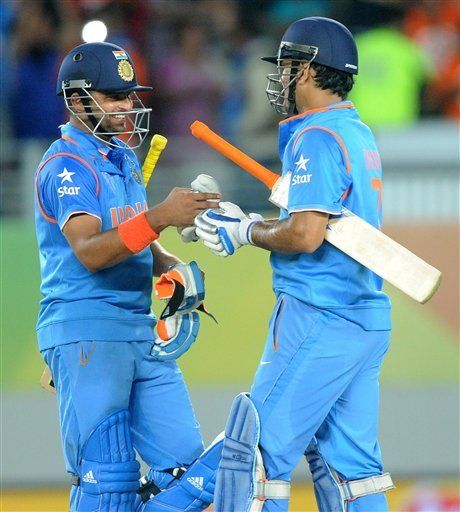 India middle-order batsman Suresh Raina is all set to don the role of a finisher to accommodate India skipper MS Dhoni at the No. 4 position.
During India's tour of Bangladesh, Dhoni had batted up the order and moved Raina down as the India skipper felt that he can spend more time in the middle and can bat more freely.
With the T20I and ODI series coming up against South Africa, a charged up Raina said that he is raring to go and that he is happy to take the role of a finisher.
"No 5 and No 6 are not easy positions to bat at. You go out there and have to score 15 runs in five balls or 50 in 20 balls," Raina told in an interview to BCCI.tv.
"It is a position that comes with a lot of pressure. You don't get regular chances to bat long and even then if you don't score big in three games, there is pressure from everywhere. I know how it feels. At the beginning of my career, I did more fielding than batting."
"You should learn how to cope with that and at the same time go and hit sixes when your chance finally comes. There is a lot of risk management involved in this role. Whoever we groom for the role from now on, I will do my best to help him cope with these aspects," Raina said.
Raina has played many match-winning knocks for India and he has best played while batting at No. 4 position- a position that could well be of Dhoni's in the upcoming years.
However, Raina is not disappointed and said that he would play as per his captain needs.
"MS (Dhoni) knows my game inside out and I would be happy to play whatever role he deems is right for me. Also, if MS decides to bat at 4 regularly, it will only benefit the team. It will make life easier for the batsmen to follow. He can build the innings with the top-order and accelerate with the lower-middle order," Raina said.
After a three-month break Raina was back in action as he was selected to play for India A against Bangladesh A in a three-match series.
Although he started off in a poor fashion, Raina slammed a brilliant ton to help India-A clinch the series.
"I am thankful to the BCCI and the selectors for picking me to play in this series. I have done a lot of batting in the nets in the last two months, in Noida, Meerut (in Uttar Pradesh's Ranji Trophy camp) and Netherlands, but could not get a lot of match practice. After all this training, what I really needed was some match practice before going into the South Africa series. These three one-day games were perfect for that. Getting a century in the last match was crucial for me in getting my batting rhythm" he said.
Raina also said that the stint with India-A helped him pick the brains of former India skipper and coach Rahul Dravid.
"I have played under him, got my ODI and Test caps from him and he has seen me very closely for years," Raina said. "His involvement was unbelievable. He was always there, giving catches, talking to players and offering valuable insights on skill and technique. After watching him play for all these years and playing with him, when I saw him as a coach, I saw that nothing has changed," the southpaw said.