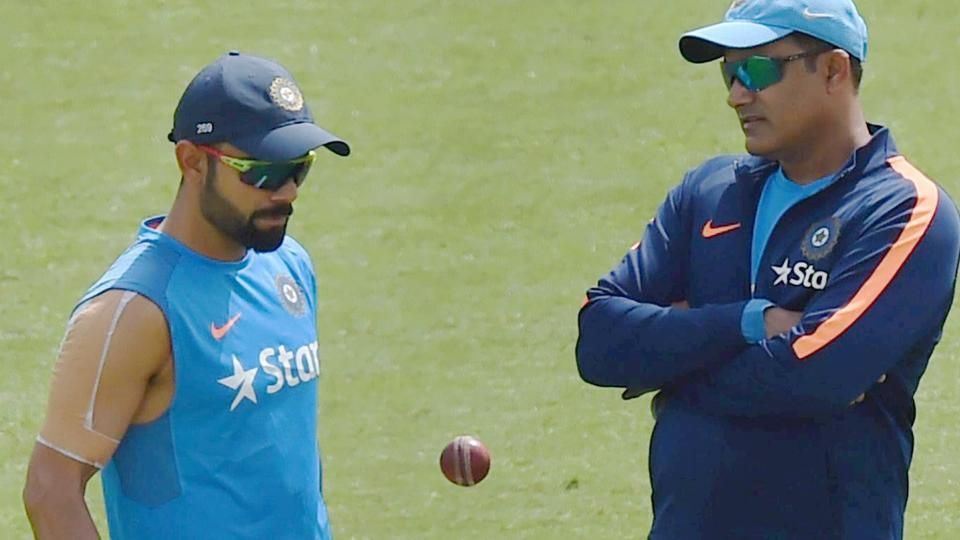 Team India's head coach Anil Kumble's contract renewal will be up for talks after the Champions Trophy in England. India will start the championship as defending champions and even though Virat Kohli and his boys go on to win the title, Kumble's coaching assignment will be discussed.
Kumble, who replaced Ravi Shastri last year as the chief coach before the tour of West Indies, was given a one-year contract till end of June 2017.
"Yes, Anil Kumble's contract as the chief coach will end with India's campaign in the Champions Trophy. Obviously, there is every possibility that it will be up for renewal but that will only be decided by the general body after the tournament gets over," a senior BCCI functionary told PTI.
Batting coach Sanjay Bangar and fielding coach R Sridhar have also been retained for the Champions Trophy.
It was also learnt that any decision regarding Kumble's appointment will need to be vetted by the Committee of Administrators (COA).
"Till the time COA is in charge of BCCI functioning, every matter will need its approval. Whatever decision is taken regarding Anil Kumble, it will have to be cleared by the COA," the source said.
Since taking charge of the national team, India have won five back to-back Test series.
In the 17 Tests that India played during the 2016-17 season, they won 12 under Kumble's guidance.
The only defeat came against Australia on a vicious turner at Pune.
India won 2-0 against the West Indies in the Caribbean followed by 3-0 win against New Zealand, 4-0 against England, 1-0 against Bangladesh and 2-1 against Australia.
In the two ODI series that were played in India, hosts beat New Zealand 3-2 and England 2-1 respectively.