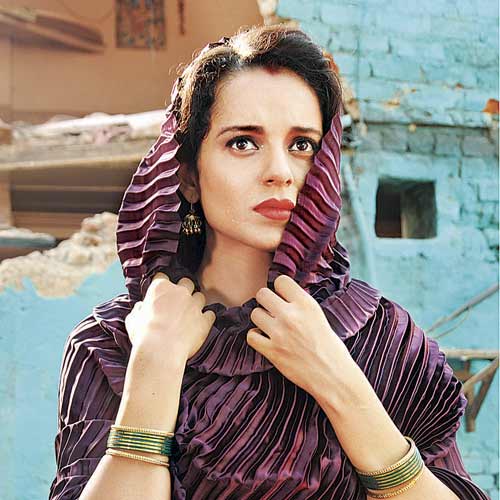 Kangana Ranaut will be shown eating paan in next film Rajjo. Although the chewing od gutka or tobacco is banned in the state, the actress will sport tobacco stains on her teeth in several portions of the film.
Says a source, "Kangana Ranaut, plays a mujrewali. Her character is loud and to be in character, she she will have stained teeth in the film. When they started shooting the director felt she didn't look realistic enough. He wanted her to chew tobacco to make it look authentic but Kangana flatly refused. Finally he requested her to chew paan to make her teeth and mouth stained."
A source close to the actress adds that Kangana was reluctant as she ever never tasted tobacco and didnt want to start, as it is very addictive. So she was given the option to eat the paan and it was a win-win situation for everyone. By the end of the shoot, Kangana's pearly whites had almost disappeared!"
Kangana confirms, "I developed stains on my teeth as I would chew paan for hours. I have never had tobacco prior to the film so I didn't want to chew that. I substituted it with paan and food color instead. Initially I had reservations about having paan. Also as it's not something I've never done before on both professional and personal front. But my director convinced me that it would make my character more believable so I went ahead with it."
The actress adds that when she saw her discolored teeth her first reaction was amusement, "As an actor I will do whatever the script requires me to, espeially if it helps in making the character seem more believable." The actress has been cast in the title role of Rajjo.