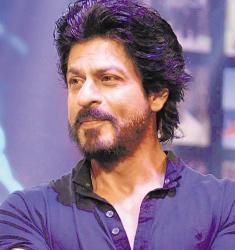 He is known to be the 'king of romance' and that's probably why Shah Rukh Khan's return to the world of love with Jab Harry Met Sejal is creating immense buzz.
As far as going back to the world of romance is concerned, the superstar says he "only goes by his director's belief ". Herein, we chat with him about the film, working with Imtiaz Ali and more.
Despite all the fame, success and power, are films still the biggest turn-on for you?
To me, it's very exciting to make the kind of films I am making, and also give the best working atmosphere to youngsters because I got the best atmosphere when I came to Mumbai. Everybody was very kind, from Hemaji (Malini) to Yashji (Chopra) and Adi (Aditya Chopra) to now, even someone as young as Alia Bhatt. Till date, everybody has been kind to me. Nobody has been unkind, so I also want to do that. I'm not at all attached to material things and have no material desires.
In Jab Harry Met Sejal (JHMS), you are working with Anushka Sharma for the third time. How has your equation developed with her?
I really enjoy myself with her. Over the years, I've got to know Anushka's family and her brother (Karnesh), and she has also learnt about my family. For instance, my daughter (Suhana) really likes her. Whenever they meet, they chat a lot. Also, I admire her because I am sure it must be very difficult for her to be a leading lady, but still take out time, put her money at stake and produce (films), but she is doing it. She is a complete outsider, and isn't someone, who knows the film business. At the end of the day, I think it's all about belief.
People are loving the fact that you are in your romantic avatar again in JHMS?
I haven't done a romantic film for years now. Maybe, the last few romantic films were Dil Toh Pagal Hai (1997) and Kuch Kuch Hota Hai (1998). Chennai Express (2013) was more of a romantic comedy. I don't think even Jab Tak Hai Jaan (2012) was a true blue love story. My last few films - Fan (2016), Raees (2016) and Dear Zindagi (2016) - were also different.
And Imtiaz Ali's 'love' stories are quite unusual...
The entire language and nuances of Imtiaz's love stories is very different, and I've not done a romantic film in that language, which I like a lot. Also, Imtiaz can really feel love. It's very interesting, subtle, quiet, not very underlined but extremely deep and somehow, ghar bana leti hai dil mein (makes a space in your heart).
After doing so many love stories, have you figured out how to be a romantic on screen?
When it comes to work, I only go by my director's belief. A few days back, I was doing a [romantic] scene in Aanand's (L Rai) film and he was like, 'sir, aap se hi toh pyaar seekha hai, yeh [scene] toh aap hi karlo. Aapko kya batayenge kaise karna hai (we have learnt how to love from you, so you do this scene as per your style. How can we tell you about romance)?' But, honestly, I don't know how to do it (romance on screen). I just play along, especially since there's trust in me vis-a-vis love stories.
What keeps you so kicked about your job even now?
I always believe that it's the first time for me and this might be the last time too, so I get very excited. Even Aryan (his son) tells me, 'You are so excited about everything you do. Sometimes, we get bored that you are showing songs to us again and again but you are excited as if it's your first film'. Aryan has known me for 19-20 years now. So, he saw me being the same as a 10-yearold. That's why they (my kids) ask me, 'how do you keep going on (smiles) ?'
Besides the fame and power, how much does all the comforts of life or money power interest you?
I must admit that I like the comforts of life. So, for instance, I love a good room. But, if I don't have it, it'd be okay as I don't insist on anything and am not like, 'I want a bigger car etc'. In fact, I meet my accounts team once in three months, and that too because they insist that I should sign the papers. I just hope that I know how to make films and if they're good, they'll make money. Recently, my accounts guy sent me a message saying, 'thank you for signing papers', as he had not met me for days. I usually don't meet people for business purposes.