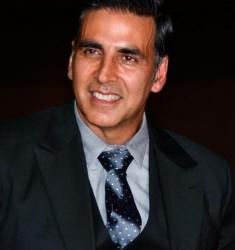 He will turn 50 next month, but Akshay Kumar manages to look ageless on screen with actresses Bhumi Pednekar and Anushka Sharma, who are in their 20s.
The Bollywood star says the secret lies in living a simple, easy and happy life.
"I have only one job in my life, and that's to do films. Then I take care of my family and workout. There's no stress... I don't take too much stress. I concentrate on happiness and I exercise, take care of what I eat, and I control my intake of sweets. There's no science behind it. Live a simple, easy life," said Akshay.
"When I used to stay in Chandni Chowk, we used to have a one bedroom house and around 22 people used to stay in it. But we used to feel happy in it. We have continued living with that happiness," added the actor, who is one of the most bankable actors in Bollywood.
The movie, which is releasing on Friday, delves on the need for sanitation and is an attempt to urge people to stop open
defecation
to work towards a Swachh Bharat. The message coincides with Prime Minister Narendra Modi's Swachh Bharat Abhiyaan.
Asked if he will make more movies related to Modi's various initiatives, Akshay said, "I have made the film because I liked the script and not because anyone asked me to make this film. It's a different thing that when our PM came to office, he started spreading the Swachh Bharat Abhiyaan message. This film is similar to his Abhiyaan and takes forward the Clean India message. But in general, Clean India is not a topic that he started... It's a topic relevant to each one of us... We have to keep our surroundings clean because it is directly related to us and our health. It's wrong if people think it's a village-based problem. Even cities have a lot to do with this problem."