Raksha Bandhan is a festival of India which shows dearness between brothers and sisters. It shows unbreakable connection between all Indian Brother and Sisters. This is well known celebration of India. This year Raksha Bandhan is going to be held on date 2 August,2012. All sisters have started buying Rakhi for their loving brothers.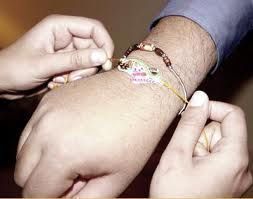 We can easily see that there is development all around us in every field. So there must be some improvement in this field also. Like if we go some years ago, at that time brothers and sisters wishes each other through Letter. But now time is changed. Now in present Brothers and Sisters wish each other through Messages, SMS, Email atc.
So to make this thing easy I am sharing some amazing wishes that your Sister or Brother must like.
Kuch rishte aise hote hain,

Jisme insaan achcha lagta hai,

Aur

Kuch insaan aise hote hain,

Jinse rishta achcha lagta hai,

Ye rishta hai bhai aur bahen ka rishta,

Aur

Ye insaan hain khud bhai aur bahen.

@@Happy Raksha Bandhan@@