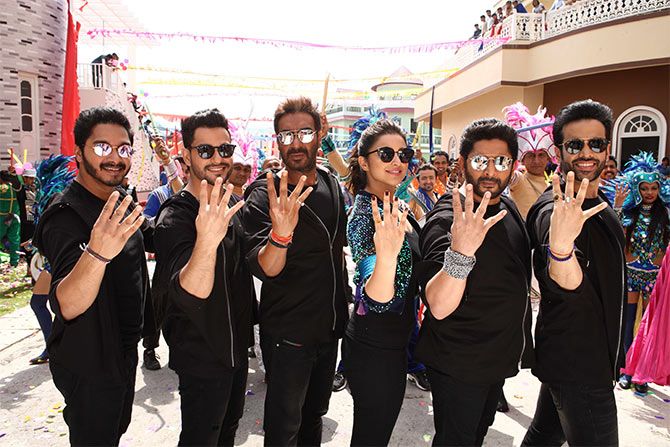 It's time for the actors to start dancing.
Ajay Devgn takes his mark. He just has to move his hand and blow confetti. On his third attempt, the shot is okayed.
After that, Devgn strolls over to the media for a chat.
"
Mujhe jitna aata hain main utna karta hoon (I do what I can)
. I am not a dancer," the action hero tells us.
The next shot is ready, now, the other actors have to joins Devgn.
Arshad Warsi, Tusshar Kapoor, Shreyas Talpade, Kunal Khemmu and Parineeti Chopra have to do the
signature
Golmaal
step.
"The music is mass-y," Ganesh says. "We have done the
Golmaal
signature hook step, but with a difference. This time, we will repeat the hook step twice."
The song also has
Singham
's signature step. That, Ganesh adds, was Rohit's idea.
Rohit, of course, directed the
Singham
movies as well.
The actors do the hook step, but something is amiss.
Parineeti is asked to lip sync as the camera is on her. The actors have to go through it twice before the take is okayed.
"Pack up!" Rohit yells.
The spotboys come over to sweep the confetti and dismantle the cameras, wires, lights...
The next day, the call time is 9 am.
The actors return to their vanity vans.
It's 6 pm and we return to our rooms.
We're scheduled to meet the actors at 8 pm for an informal dinner.
We'll save that story for another time.