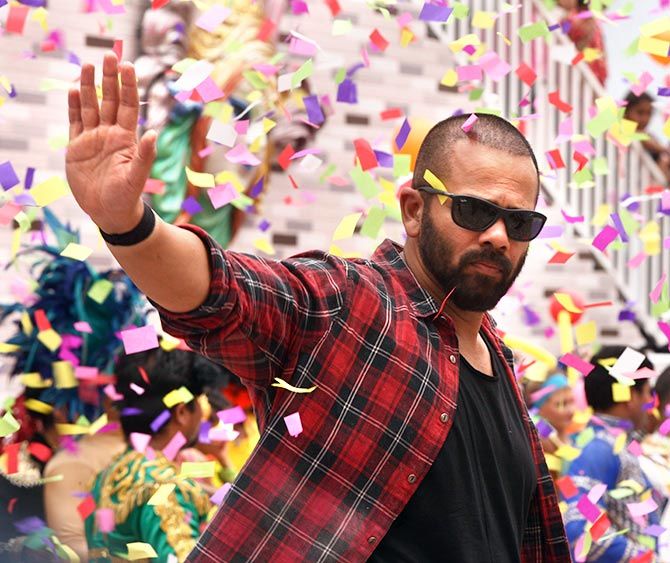 The first shot requires Ajay Devgn to make his entry.
The junior dancers do their rehearsals while someone stands in for Devgn.
Rohit is busy guiding the dancers, but it is choreographer Ganesh Acharya at the helm of everything.
He dances, blows confetti around and checks its flow.
Later, in the scene, we see Devgn blows confetti.
Ganesh wants to keep the song "bigger and better" since it is the fourth
installment
of the hit
Golmaal
series.
"We have 300, 400 dancers," he tells us.
The film will, in fact, start with the carnival song.
"Ajay Devgn is very comfortable while dancing," Ganesh says of Devgn who has a reputation for being a non-dancer.
"I learnt dance from Kamal master," Ganesh says. "He taught me that I must set my dance according to the dancer's capability. What will look good on them because they would be on the big screen."
"So it's my duty to make their dance look beautiful," he adds.
Shreyas Talpade, who has been a part of the second and third
Golmaal
films, is the first to meet the media.
"All the dance steps in the
Golmaal
title tracks are Western, but this time, it will be more
desi
," Shreyas shares with us.
Golmaal 3
appeared on screens seven years ago, in 2010, and Shreyas says the actors' camaraderie is even better this time.
"There is more
masti
. We shouldn't stop making
Golmaal
movies, they are really good," he says.
"Shooting the
Golmaal
songs are the happiest phase of the shoot because everyone is together and there is lot of fun!" exclaims Tusshar Kapoor who has been a part of alll the films in the series.