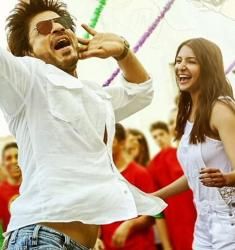 He is called the King of Romance and actor Shah Rukh Khan proved once again that when it comes to getting a woman weak in her knees, no one does it better than him.
And this time around, the woman in question was actor Anushka Sharma, his co-star in his upcoming film Jab Harry Met Sejal, who was all giggly and blushing when SRK held her hand and said romantic things to her.
The duo were present at a Mumbai restaurant for the launch of a new song from their film. The stars were later joined by director of the film Imtiaz Ali and music director Pritam, and they released the song at a sundowner in an ambiance that was just right.
Interestingly, in keeping with the romantic feel of the day, SRK and Anushka came dressed in white and added a dreamy touch to the lovely setting at the venue.
The track titled Hawayein sung by Arijit Singh is a soulful number that shows the real chemistry between SRK's character Harry and Sejal, portrayed by Anushka, and has already garnered over 6,000,000 views on social media.